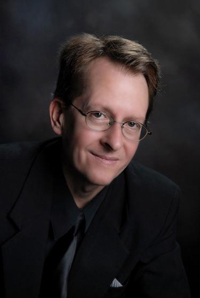 Dr. Keith Dippre was born in Ancon, Panama in 1960. He received his undergraduate degree from Azusa Pacific University in California and his M.A. from California State University at Los Angeles. In 2001 he completed his D.M.A. in composition at the Ohio State University.
Dr. Dippre started teaching at Methodist University in Fayetteville, North Carolina, in 2001 and is currently Department Chairman and Professor of Music, teaching music theory, orchestration, and composition. Dr. Dippre also received a Regional Artist Project Grant from the Arts Council of Fayetteville and Cumberland County and was an artist-in-residence at the Artist's Enclave at I-Park (East Haddam, Connecticut). In October of 2003 his piece "Pilgrim's Blues" (for piano, violin, and cowbell) premiered in Northampton, Massachusetts commemorating the tercentenary celebration of Jonathan Edwards.
On his sabbatical from Methodist University, he took part in the Fresno New Music Festival and was a guest lecturer at Azusa Pacific University. He is also the recipient of a 2010, 2012, and 2013 ASCAPLUS award and the winner of the Henry Grady Miller Cup award (2012) for his choral work "Daughters of Song."
His choral works "Mojave Cross, Desert Voices" and "Light" are published with Renforth Music, and his chamber works "California Low Brow" and "Year of the Rat" are available through Ars Nova Music. He also has several pieces published by Imagine Music. His most recent commission is with the North Carolina Music Teachers National Association (NCMTA) for their state conference in the fall of 2014. He recently received the Methodist University President's Award for Excellence in Research and Creative Expression (2014).
Recent Works
Pilgrim's Blues (2004)
Attacca 1956 (2006)
California Low Brow (2009)
Sun Ra and the Apogee of Saturn (2012)